Keith Hearne, Don Corry, Karl Lambert and Pär Hellstadius make the sports pages of the Waterford News and Star!
PRESS RELEASE
Stockholm, December 3 2010
With many delegates grounded due to the Arctic weather conditions sweeping across Europe, the Annual Congress of the European County Board of the GAA will now be broadcast on the internet from Stockholm to ensure everyone can take part. The congress will be held at the Mornington Hotel in the Swedish capital this weekend.
"When the decision was taken to hold the conference here I think people were worried about the cold weather, but it turns out that things are working fine here- it's the rest of Europe that is suffering. We get this weather every year so the airports are all open and ready to receive the delegates from all over Europe, but everyone else seems to be stranded in the snow," says Philip O'Connor, chairman of Stockholm Gaels who are organizing the Congress this year.
"There is a silver lining to the snow cloud – we've just finished testing a video stream for the conference and it worked very well, so delegates will be able to see and hear what is going on. When it comes to them giving their input and how the voting will work, I'll have to check with ECB chairman Willie Cashin- if he ever gets here."
So far, delegates from France and Guernsey have been in contact to confirm that they won't make the congress at all, with many more delegates delayed at airports from Budapest to Brest.
The live internet broadcast can be viewed from 0900 CET tomorrow on the Stockholm Gaels website at http://stockholmgaels.com
For more information, please contact Philip O'Connor on +46 707 1222.
Paris Linesman Stefan Wittberg To Throw in Ball for Stockholm Gaels Historic First Game
Stockholm Gaels are delighted to announce that Stefan Wittberg, the linesman that missed Thierry Henry's handball in Paris during Ireland's World Cup playoff in November, will throw the ball in to start the first-ever game of Gaelic Football in Stockholm on Saturday April 24 at 1230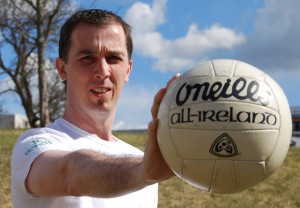 .
"Martin Hansson said our invitation was 'a great initiative' and wished us luck, but he will be on route to Stockholm when our game is due to start. We are delighted then that Stefan Wittberg can take his place as our guest. Much like Thierry Henry, we'll be looking to get our hands on the ball as soon as possible after he throws it up," said Gaels chairman Philip O'Connor.
"I'm not really sure what reaction to expect, but I hope Stefan will get a very warm welcome from our supporters- of course we're disappointed not to be going to the World Cup, but with the first Scandinavian Championship coming up this summer, we'll be keeping ourselves busy with the gaelic football whislt Stefan is off at the World Cup in South Africa".
Stefan was part of the team that missed Thierry Henry's handball in the lead-up to William Gallas' goal that put an end to Irish World Cup dreams in Paris in November. Stockholm Gaels invited members of the Swedish refereeing team to start the game to show that all are welcome in the newly-founded gaelic football club – even the those that had a hand in ensuring Ireland's absence from South Africa this summer.
Unfortunately, Stefan is no stranger to controversy either, having been hit in the head by a coin throw during a qualifying game between Northern Ireland and Poland in Belfast last year. "I don't think he has anything to fear on that front from our supporters" said the Gaels chairman.
"Saturday will be a great day for sport and for Ireland in Stockholm, and with Ireland again facing a tide of emigration we want people to know that we are here and ready to welcome them. This is a great country to live in, to do business in, to work in and to raise a family in, and Stockholm Gaels is a great club to be in- no matter who you are or where you're from."
After throwing the ball in to start the game, Stefan Wittberg will join Martin Hansson at the Råsunda Stadium to run the line for the AIK – BK Häcken game. The two Swedes have been selected by FIFA to officiate at the World Cup Finals this summer in South Africa.
For more information, contact Philip O'Connor on +46 70 721 1222 or e-mail philip.oconnor [at] gmail.com.
Stockholm Gaels invite Swedish Referee Martin Hansson to throw in ball in historic first game against Gothenburg GAA
See below for the full press release and links to hi-res images.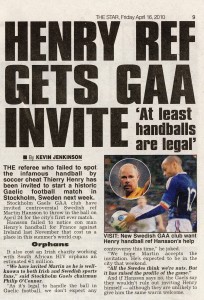 Stockholm, April 14 2010

Stockholm Gaels GAA club have today invited Swedish referee Martin Hansson to throw in the ball to start the first-ever gaelic football match in Stockholm on April 24 at 1230.
"We have invited Martin to throw in the ball to start the game, as he is well-known to both Irish and Swedish sports fans, albeit for slightly different reasons. As it's legal to handle the ball in gaelic football, we don't expect any controversy this time around," says Stockholm Gaels chairman Philip O'Connor.
"There was a good few of the Gaels in Paris on that night in November last year, including myself, but it's all water under the bridge now. The Irish are known for their love of sport and we're concentrating on the upcoming gaelic football season," said Philip of the controversial incident which brought Hansson to the attention of the world. The Swedish referee failed to spot a handball by French striker Thierry Henry in the lead-up to a goal which saw the Irish miss out on this year's World Cup in South Africa.
"We hope Martin accepts the invitation. We're expecting a big turn-out at the game on the 24th and it would be a good chance to put this to bed once and for all- as long as he keeps his whistle in his pocket", said the chairman.
Stockholm Gaels were formed in February of this year and will take part in the inaugural Nordic Championship against teams from Oslo, Copenhagen and Malmö, as well as Gothenburg. Philip is a former team-mate of Dublin gaelic football boss Pat Gilroy, whom he played with for Àrd Scoil Rís in Dublin.
Stockholm Gaels thanks it sponsors, the Liffey and the Dubliner pubs, for their support- One Great Club, Two Great Pubs!
For more information about the Stockholm Gaels and the game on April 24, please visit http://stockholmgaels.com.
Pictures: