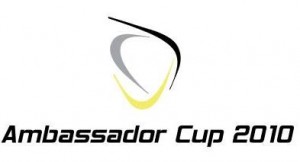 There was a fine turnout of players and fans at Östermalms IP to witness some brilliant football at the first round of the Ambassador Cup today. Niall Balfe's team have taken an early lead in the table with a tremendous display scoring, whilst the Dubliner did what the Dubs found so hard and rattled the net five times in their game.
Three university students who signed up on the day gave those in attendance a lesson in point-scoring from all parts of the pitch as Balfe's boys beat the Liffey in the second game of the day, scoring a whopping 3-17 in the process. Earlier in the day Liam Kennedy's side met the Dubliner in a closer encounter with the pub side proving the old adage that goals win games, netting five times to take the points. Full results and table here. 
For all those from beyond the Pale who feel they got too much stick today, you can get your own back in the forum.
On the other seven-a-side pitch Ciarán O'Reilly put the girls through their paces, and the coming generation of Gaels (mostly under 10!) also got a good runout. Thanks to Ciarán, Lisa, Per, Mary and everyone else who took part. Rumour also has it that many of those in attendance adjourned to our sponsor pubs to recharge their batteries and watch Down take on Kildare in the All-Ireland semi-final afterwards.
We'll be doing it all over again next week – and for the next five weeks – so bring the coffee, the kids and your boots for a great afternoon of Gaelic football with the Swedish-Irish community.
Be part of it.